Don't be a PTO hoarder! Whether you're packing up early on summer Fridays or trading in subzero office air conditioning for a breezy beach week, it's time to get going. Here are some tips on how to prep yourself (and your colleagues) for your well-deserved vacation.
Step 1
Approximately two weeks before your vacation, place a pair of flip-flops under your desk. Slide them on occasionally and imagine sand between your toes. (Remember to return to regular shoes before your next meeting.)
Step 2
Put a "For Sale" sign on your faux sunshine lamp.
Step 3
Chat with your manager about who will cover for you in your absence. Start sliding morning doughnuts on that person's desk at least three days before your departure.
Step 4
Update your screensaver with a slideshow of beaches, sunset cocktails and windsurfers. Write "Wish you were here" on a sticky note and attach. It'll get the office gossip going when you're out to lunch and your screensaver kicks on.
Step 5
The night before departure, Google "Funny out of office messages." Compose and delete at least three options, including this gif: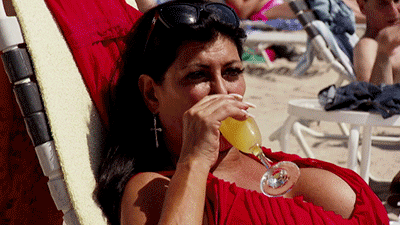 Write out: "Thank you for your message. I will be on the beach starting [Start Date] and will return to the office [Date of Return]. If you need immediate assistance during my absence (because, remember, I'll be on a beach), please contact [Name] at [Email].
FOR THE LOVE OF ALL THINGS PROFESSIONAL, REMEMBER TO ACTUALLY TURN IT ON.
Step 7
Shut off computer. Pick up flip-flops. Walk away. Breathe.
Now that know how to prep for PTO, it's officially time to start the countdown until you're on the beach!